Head of the Research Laboratory

László Czúni, PhD, Associate Professor
Tel: 06-88-624-800
Email: This email address is being protected from spambots. You need JavaScript enabled to view it.
Web page: https://keplab.mik.uni-pannon.hu/en/
Research Activity
The laboratory was founded by Tamás Szirányi for the research of image processing technologies and to develop innovative solutions for image related problems. In the last two decades the following research areas were in the focus of the laboratory: pattern recognition, biometrics, human-computer interfaces, image and video analysis, industrial applications of image processing, image and video coding, image retrieval, stereo vision, motion analysis, object and screen recognition, image processing in parallel systems (FPGAs), image and video segmentation. Members of the lab participated in several national and international research and development projects (OTKA, GOP, TAMOP, BAROSS, GVOP, NKFP, cooperations with Samsung, and Tateyama corporations). Knowledge and experiences are shared with University students during different courses such as Image Processing, Measuring image information, Biometrics and in supervised project works.
Main Research Results
Some examples of successful research results are:
Method for the estimation of urbanization in aerial images,
Hidden Markov Models for the segmentation and for unusual event detection in videos,
Methods for film restoration: video stabilization, blotch detection,
Offline handwriting recognition in archive documents,
Hang gesture recognition,
Method for the estimation of compression rate and image quality in H.264,
Motion detection in case of moving cameras.
Selected Publications
László Czúni, Mónika Gál: Directional Votes of Optical Flow Projections for Independent Motion Detection, International Conference, Computer Vision and Graphics, Warsaw, September 2012, pp. 329-33
Á. Utasi, L. Czúni: Detection of unusual optical flow patterns by multilevel hidden Markov models, Optical Engineering, Vol 49, No 1, 2010
Licsár, T. Szirányi, L. Czúni: Trainable blotch detection on high resolution archive films minimizing the human interaction, Machine Vision and Applications, Springer-Verlag, Volume 21, Number 5, 767-777, 2010
L. Czúni, G. Császár, A. Licsár: Estimating the Optimal Quantization Parameter in H.264, International Conf. on Pattern Recognition (ICPR), Hong Kong, China, 2006
L. Czúni, A. Hanis, L. Kovács, B. Kránicz, A. Licsár, T. Szirányi, I. Kas, Gy. Kovács, S. Manno: "Digital Motion Picture Restoration System for Film Archives (DIMORF)", SMPTE Motion Imaging Journal, Vol. 113, pp.170-176, May-June 2004.
Biography of the Head of the Laboratory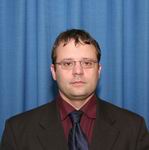 László Czúni received his MSc degree in Computer Engineering in 1996 and his PhD in image processing in 2001. Now he is an associate professor and vice dean at the Faculty of Information Technology, University of Pannonia. His teaching activity and research interests cover several areas of image processing and pattern recognition. He has published more than 50 papers at international conferences and journals. He is the author and co-author of three Hungarian lecture notes and three international patents. He is a member of the governing board of the Hungarian Association for Image Processing and Pattern Recognition (KÉPAF), and the head of the Image Processing Research Laboratory since 2012.